equilibrium

— issue #1 {May 2014} —
.hello
Welcome to the very first issue of Equilibrium. It's a very exciting moment for me, since this is something I've been thinking for years, and it's finally starting its journey. :)
If you haven't done already, you can also read the sample issue I prepared about a month ago, which contains similar content to this issue.
Thanks for subscribing!
– Stathis
.blogs
(interesting reads from around the web)
Not really a blog bost, but it could be. An interesting reference guide showing pure JavaScript alternatives to common jQuery functionality. Plus, a nice discussion about it in Hacker News.
Advice on what to do and what to avoid when releasing and maintaining an open source project.
"I attended events, meetups, conferences, and mingled with the local startup community (...) it wasn't until I decided to launch my own startup that I realized that nothing I've read, watched or attended really prepared me for it. And I mean it. Absolutely NOTHING."
.newsletters
(worth subscribing to)
A quite frequent newsletter (usually daily) which includes an article on an interesting topic in each of its issues; stuff like the paper airplanes US used to build to mess with the Soviet spy satellites, or the World Of Warcraft plague. Chances are that it isn't the kind of content we call useful information, but it's still interesting!
.podcasts
(sometimes is better to listen)
As the title suggests, it is a podcast about bootstrapped startups, where its hosts (Ian Landsman and Andrey Butov) discuss about their startup adventures. Just to warn you, during their discussions, they sometimes go off-track (e.g. talking about movies), but that helps the show to develop its own unique character.
.books
(physical or electronic)
The inspiring tale of the two Johns (Carmack and Romero) who formed Id software and created -among others- Wolfenstein 3D, Doom, and Quake, massively evolving the world of gaming. It's not a book containing any tactical stuff related to starting or growing a business, but I found it a quite interesting and motivational read.
Ubik
— wikipedia

Ubik was written in 1969 by Philip K. Dick, one of my favourite science fiction writers. The book is set on a future (1992 was far away in 1969) where technology has reached a point where we can communicate with recently-deceased people who are in a state of "half-life" and humans have evolved abilities such as telepathy and precognition (not used to save the world, but instead to perform industrial espionage).
I literally tried to write a description of the book's story over 10 times so far, but I never managed to write one without including even a small spoiler, therefore I decided not to. You can always read a review online, but trust me, if you are even remotely intrigued by the world I just described, you have to read Ubik.
.comics
A series of comic strips about life in academia; all about ideas, food, work, and science. When I discovered it a few years ago, I awarded myself a procrastination award when I managed to read its entire back log (since 1997) in less than a month.
.videos
Some morning inspiration. A talk by Ji Lee (at the time Creative Director Google Labs, now Creative Director at Facebook) about the importance of working on personal projects.
.games
(everybody needs some play time)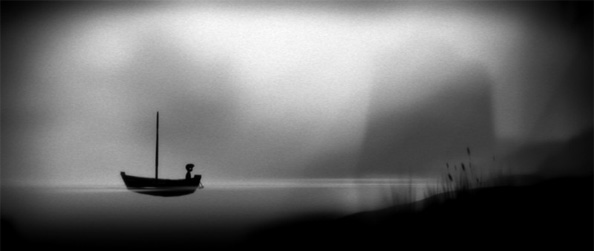 Released by Playdead in 2010, Limbo is a dark and atmospheric puzzle-platformer. As you can tell from its screenshot, its graphics are very simple; you can only see the silhouette of the character you're controlling and the outline of the rest of the world. There are no fights with enemies; you can only run around, jump, and interact with a few objects. Be prepared to die a lot, though!
.bye
Thanks for reading Equilibrium!
If you've enjoyed reading it, consider spreading the word to your friends. If you want to contact me, you can reply directly to this email.
Photo credits: Ubik by cherdak and Limbo by Playdead.
P.S. If someone forwarded you this newsletter and want to subscribe, click here.