.editorial
Hello, and welcome to the seventeenth issue of Equilibrium.
A few weeks ago, I received the following email:
Hi Stathis,
My name is XXX and I'm a Technology Evangelist at YYY, a technology training company. We are working on a PHP Solutions from the Web course, which is free and contains a series of videos showing different solutions PHP experts have posted on their blogs/websites.
In the course, our own PHP experts demonstrate the solutions, essentially turning the written articles into videos. In doing so, we credit the author and point out the page on which the solution was found. We would be interested in including a video version of How to Resize a Logo to Specific Dimensions Keeping Its Aspect Ratio Using PHP.
If we create this video, would you be willing to post it (assuming you like it) on your website and credit YYY by providing a link to our PHP training?
Please let me know if you would be interested.
Thanks,
XXX
I removed the sender's personal details since I didn't want ​identify them without asking for permission, as well as the company's name, since (spoiler alert) I don't want to give them a backlink. Underlined sections in all emails denote (removed) hyperlinks.
So, a company claims that is working on a free training course and wants to create a lesson based on an article I've written. Therefore, they ask my permission to use it, and they let me know about it in case I want to promote it. So far, so good.
What's sketchy though, is that they ask me to "credit" them by providing a very specific link to a page which is completely irrelevant to the video or the lesson. That smells SEO from miles away.
In addition to that, to register for that training course, you have to fill in the following form: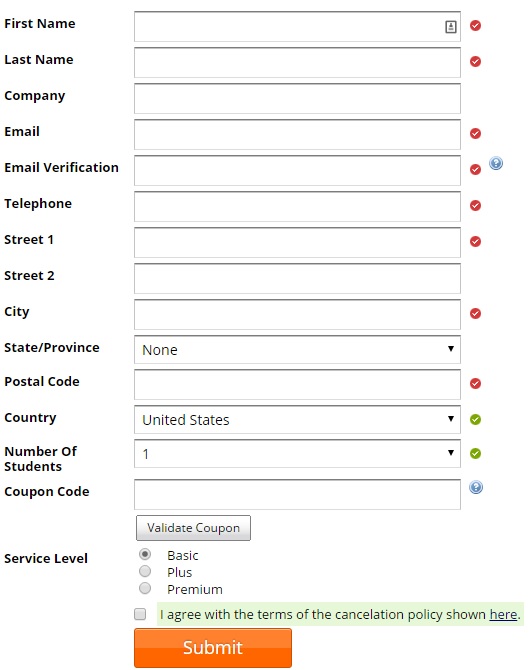 I personally find that ​the above requires ​quite a lot of personal information to register for a free course, but after a quick search I noticed that they also publish the lessons on YouTube, so I decided to reply, sending XXX the following email:
Hi XXX,
Nice to meet you and thanks for the interest in my article.
Sure, I'll be happy to link to the video, so if you end up creating it drop me an email to let me know. :)
Thanks,
Stathis
That's a fair reply, don't you think? They asked me that if they create the video and assuming I like it, if I would "credit" them, and I replied that I'll be happy to post a link to the video. I intentionally left out any mention to their SEO link, and got the reply I expected:
Hi Stathis,
Great! And can I just confirm that in addition to posting or linking to the video you are willing to also post a link to our PHP training page? If you would like to check out a few videos first to get a sense of how professionally done our work is, please visit our YouTube channel.
Thanks,
XXX
Confirm what XXX??? I think I was clear that I'll post a link to the video. And why are you trying to make me commit to something, when you clearly stated in your previous email that there were no strings attached?
These are some of the questions that a person who doesn't know how these SEO link hunters operate will think.
Here's my reply, stating the obvious, and explaining why I do not post SEO links:
Hi XXX,
As I mentioned in my email, I'm happy to post a link to the video (something similar to this), since that will be relevant to the article.
Regarding the link to the "PHP training" page though, I understand that you want to do some link building, but I cannot endorse something I don't have personal experience with. The link to the video should still be helpful to your SEO enteavours though. :)
Thanks,
Stathis
The link I provide as an example is for a tutorial that YYY actually created a video for. The video is posted on YouTube and includes an active link back to that blog post. The blog post includes the following text (with a link to the video on YouTube), in a prominent position:
UPDATE: YYY created a video about this library. If you're a visual person, I'm sure you'll like it ;) Check it out here!
Here's XXX's reply:
Hi Stathis,
I understand your position, but I'm afraid we really do need a link back to our site as a credit. Would you be willing to post a dofollow link to our free PHP tutorial here instead? We offer a range of free written tutorials on YYY.com as well as our paid courses.
Thanks,
XXX
At last, some honesty! Forget the pleasantries like "assuming you like it", etc. We're doing business here, sir! You asked us to create a video and promote it to our users, so you'll pay for it! We accept SEO currency.
That was my interpretation of XXX's email, and that would be ok if I was the one reaching out asking them to create a video to promote me or my company. But obviously, that wasn't the case, so ​here's​ what I replied:
Hi XXX,
Your free tutorial, requires registration, so that isn't somewhere I would link to.
To tell you the truth though, I really don't get what is there to negotiate for. I didn't reach out to you asking for anything. Instead, you're asking me to give you permission to use my own content for free, so you can create a video from it and use it as promotional material for your company.
The only "reward" for me is that you'll mention me in your video, and maybe (because in most of your videos you don't even do that) a link to my tutorial from YouTube. I already told you that I'm giving you permission to use my content (it's already published under an Attribution-ShareAlike Creative Commons license), and that I'm happy to promote that video -and in extent your company- through my blog since it might be useful to my readers.
Now, you're pressuring me to put an (essentially advertising) link on my site, in exchange for what? Providing you with free content?
Let me be clear: I don't even have to place the link to the free video, although I'm willing to. You do have to credit me though since you want to use my work, and you don't get to ask anything in exchange.
If you want to advertise on people's blogs, reach out to them being clear about it, and offer to pay them. Not that my answer would be different since I generally don't place ads in my blog, and -as I previously mentioned- I won't endorse anything that I don't have personal experience with.
So, to summarise, feel free to use my content to create a free video that provides value to the community and acts as a promotional material for your company, giving credit to my article. If you do that, you can let me know and I'll link to it. If you want to use my content without an attribution to me, then we can discuss the price, since that's not covered by the license it's published under.
But, under the current circumstances, you don't get to ask for "credit" and anything in return; that's insulting.
Thanks,
Stathis
I think I'm explaining all of my points in the email, so I won't bother you with any further explanation. To be honest, I didn't expect any further communication from them, but I received the following email:
Hi Stathis,
I certainly didn't mean to insult you, and I apologize. Some people I reach out to have your view on the matter, while others see the situation as more of an exchange (which is how we view it), so it is difficult to know during initial correspondence. Again, I'm sorry to have upset you, and we will not create the video or use your materials in any way. And yes, I did seek you out, so I would like to thank you for taking the time to even discuss this with me. Please accept my best wishes for you and your blog.
Kind regards,
XXX
My reply:
Hi XXX,
Most of the people you will approach this way should have the same view as me, since it's based on common sense. I think you've already experienced that since from the five videos you've posted in the series, it seems that you only got one link to your website, and one to the YouTube video (the same think I was willing to do).
Anyway, apology accepted, and sorry if I was too harsh. We would have both saved our time if you were clear from the beginning. When you write "if we create this video, would you be willing to post it (assuming you like it) ...", it means that there are no strings attached, when obviously there are!
Finally -just for the record since you mentioned that you won't use my materials in any way- as I mentioned in a previous email, all of my articles are published under a creative common licence that allows anyone to use them if they attribute the author.
Good luck to you too. :)
Regards,
Stathis
Since I mention in my email something about the links they received, I think it's appropriate to include some stats.
At the time of writing (early December 2015), YYY had 8 lessons published as part of the aforementioned course. I only visited the YouTube version of the videos, since YYY's site requires registration (see above). The YouTube videos provided links to the original blog posts in 5 cases. The actual blog posts, provided SEO links in 4 cases, no link at all in 3 cases, and one of them linked to YouTube (i.e. the example I mentioned in one of my emails).
Finally, without any particular reason other than I like charts and I wanted to visualise the numbers I've been looking at while doing my investigation, here's one which includes the views of each video, against the days it was published for (the numbers were taken on December 6th, 2015):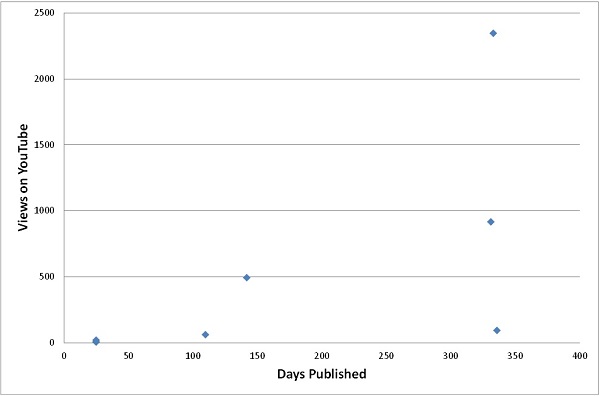 As always, enjoy the issue!
– Stathis