.editorial
Hello, and welcome to the eighteenth issue of Equilibrium. Since this is the first issue of the year, allow me to send you wishes for a happy, healthy, and creative New Year.
---
As the first side-project of the year, I spent a few hours to build Nevermind (my new blog written in Greek) using Sculpin, a static site generator written in PHP (one of the picks of this issue). If you can read Greek, head over to it to have a look.
---
I love reading printed magazines, especially if they have a retro touch in them and cover games, computers, and hacker culture. The other day I was actually reading an old gaming magazine, which was published in 2000.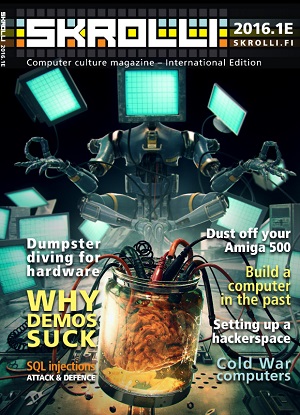 When I landed on Skrolli's Indiegogo campaign, it was a no-brainer that I would fund it. The project was successfully funded, so I'm waiting excitedly for its publication!
---
A few months ago, I read The Martian book (featured in issue #16) and I loved it. I just watched the film adaptation of the book, which I found very nice. Obviously, you can't expect the level of detail that a book can offer in a film, but I think the producers did a good job overall.
The film is fast paced, contains most (but unfortunately not all) of the important scenes from the book, and it has the same "atmosphere" as the book. My wife -who didn't read the book but was familiar with it since I didn't stop talking about it while reading it- really liked the film as well.
---
As always, enjoy the issue!
– Stathis